Students Grades 1 to 6 Are Invited To This Exciting Learning Event
The largest learning event in history is coming to St. Peter's! To kick off Computer Science Education Week, St. Peter's will be joining 708 other schools in South Carolina in hosting an Hour of Code workshop. We are excited to be the first Catholic school in our state to join this event that spreads awareness and excitement about computer science.The Hour of Code is organized by Code.org, and is primarily an event that raises awareness about computer science. It has become a global movement with more than 100 million learners in 180 countries. The main purpose is to provide a spark in children to continue learning computer science. Once students see what they are capable of creating right in front of them, they are empowered to keep going.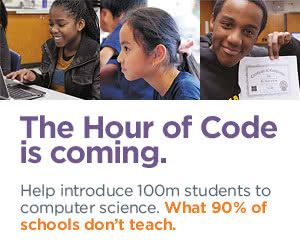 Our school's Hour of Code will take place on Monday, December 7th from 3:30 until 4:30 in the library and computer lab. We will be using our iPads in the library and computers in the lab. All St. Peter's students in grades one through six are invited to attend. The event is free to attend, but we do ask that you RSVP for your child so that we will know how many students to expect.
Our Hour of Code workshop will offer four different themes for students to choose from that will make learning computer science entertaining and fun! The theme options are: Star Wars, Mystery Island, Frozen, and Run Marco!
Although the event is free, please reserve a ticket for your child by clicking here and then click the green button on the right side of the page.  Please contact jpriester@stpeterscatholicschool.org with any questions.  And view the video below for a message about the importance of computer science to your children and their future.